Let´s save the German nuclear power plants
The German government is sticking to the planned nuclear phase-out date of April 15, even though there is no substitute for reliable nuclear power. Polls reveal: A clear majority of Germans are in favor of nuclear power. Please help us fight for our nuclear power plants! Here´s what you can do:
Use our online form to e-mail Chancellor Olaf Scholz
Mails sent until now: 226
E-mail or a mail to important politicians
For a physical letter, you can use online services like Superpost. If you write a letter yourself: Please take a photo and share it on social media for more impact (#KernkraftGewinnt #KernkraftBleibt)
Copy or edit the text below and send it to:
Minister of economy Robert Habeck, Platz der Republik 1, 11011 Berlin, robert.habeck@bundestag.de
CDU-chief Friedrich Merz, Platz der Republik 1, 11011 Berlin, info@friedrich-merz.de
FDP-chief Christian Lindner, Wilhelmstraße 97, 10117 Berlin, christian.lindner@fdp.de
Minister of environment Steffi Lemke, Platz der Republik 1, 11011 Berlin, steffi.lemke@bundestag.de
Dear Mr. Chancellor of the Federal Republic of GermanyGerman Republic:
I am writing to you because I am very concerned about Germany's energy policy. Germany has shut down 14 nuclear power plants in the past decade. 17,000 megawatts of controllable, reliable, low-cost power were lost. Today, Germany''s neighboring countries must permanently help back up Germany's unstable power grid. Emissions have fallen only slightly as fossil fuels replace much of the missing power. Polls show: A clear majority of Germans is in favor of nuclear power.
If Germany's last three nuclear power plants will shut down in mid-April, as the government plans, Germany will have to burn even more coal or gas or import more electricity. Both options are a problem: In the first case, emissions rise; in the second, Germany further exacerbates the energy shortage in the midst of the crisis. A further massive ramp-up of wind and solar power, as the German government is planning, is unrealistic.
Germany must end its nuclear phase-out policy, which is harming the climate and exacerbating the energy crisis. The advantages of nuclear power are obvious:
Please preserve the German nuclear power plants! Thank you for your reply.
Kind regards
Use the hashtags #KernkraftBleibt and #KernkraftGewinnt on social media
For example, on Twitter:
@OlafScholz @c_lindner @_FriedrichMerz @steffilemke Save German nuclear for clean and reliable power! There is no alternative and you know it – it´s not too late.  #KernkraftBleibt #KernkraftGewinnt
Share your conviction on your shirt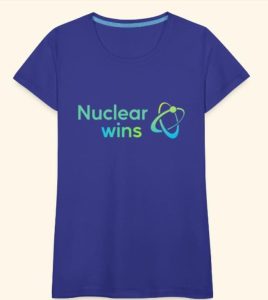 In the Nuklearia store, you can order our chic campaign shirt (available in many cuts and colors) and other products to share your conviction. Delivery is possible worldwide.
Celebrate with us: Demo "Nuclear Wins" on April 15 in Berlin
On April 15, the date of the planned shutdown, the German pro-nuclear movement invites its allies from all over the world to Berlin. Let´s celebrate the best energy source of all  – no matter what Germany does. Come to the west side of the Brandenburg Gate ("Platz des 18. März") at 2 p.m. We´ll have a great day in Berlin!
Why it's more important now than ever to speak up and get involved:
Three parties in the Bundestag tend to or even explicitly support nuclear power. More and more politicians are openly advocating nuclear power. A majority in the Bundestag is possible.
The decommissioned nuclear power plants are being dismantled only slowly. There is the option of switching to reconstruction mode.
Our allies in the U.S. have successfully prevented nuclear power plant shutdowns at the last second. We can do it too!
That is why Nuklearia will do everything in the next few weeks to turn the tide after all. We will approach politicians, look for allies among family businesses and associations, and on April 15 in Berlin, together with friends from all over the world, show that we are many.